The Star Wars Convention held a 40th anniversary panel, with appearances by Star Wars mastermind, George Lucas, and Carrie Fisher's daughter, Billie Lourd.
Lucas gave a very touching tribute to Fisher, saying things like 'She wore a dress through the whole thing, but she was the toughest one of the group'.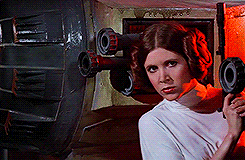 Near the end of the panel, Lourd came out wearing a dress Princess Leia could have worn, and spoke about her mother's love for her and the fans.
She ended her tribute with a flawless rendition of Leia's "You're my only hope" speech, given to Obi-Wan Kenobi in A New Hope (begins at the 6:40 mark).