Were you allowed to bring your pup to the office with you today?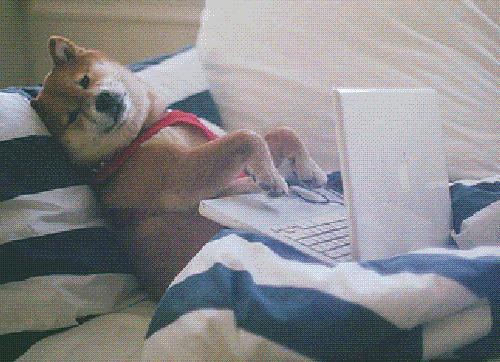 It's National Take Your Dog to Work Day, and dogs everywhere were put to work. A new study by Purina found that employees who are allowed to bring their pets to work have lower stress levels at the end of the day.
Happy #TakeYourDogToWorkDay! Here's The World According to Storm the Weather Dog, at Global News! @AnthonyFarnell pic.twitter.com/OvVWAaaNVc

— Globalnews.ca (@globalnews) June 23, 2017
Some dog owners even put their furry friends to work!
It's back to the ol' grind for Cushla! She is loving the attention on #TakeYourDogToWorkDay! pic.twitter.com/SISdTCu8S4

— Budget Blinds of PA (@BudgetBlindsPA) June 23, 2017
It's #TakeYourDogToWorkDay and the pups at Sterling Heights City Hall are working hard! pic.twitter.com/TI2V0IL5UP

— Sterling Heights (@sterlingheights) June 23, 2017
Another survey by the friendship app Skout found that 78% of office workers say having a dog in the workplace makes them happier.
I also learned how to keep the internet safe during my #TakeYourDogToWorkDay adventure. 👩‍💻🔒🌏 pic.twitter.com/0JCZ1oFpbN

— Chicken the Pug (@ChickenThePug) June 23, 2017
It's definitely not a ruff day with Frankie in the office! #TakeYourDogToWorkDay pic.twitter.com/Id1RIclu5J

— Vic Law Foundation (@VicLawFoundn) June 23, 2017
Basically, every day should be #TakeYourDogToWorkDay!
the inability to use the phone is a small price to pay to have this puffball around all the time 😀#takeyourdogtowork #TakeYourDogToWorkDay pic.twitter.com/VhcclbpR1b

— LCC K9 Comfort Dogs (@K9ComfortDogs) June 23, 2017
We've got a full house in Surry Hills today for #TakeYourDogToWorkDay. Bear and Lulu forgot to wear their get along shirt. pic.twitter.com/54g1GiGXw8

— Amblique (@Amblique) June 23, 2017