You need to know  your worth, and insist on being paid for it, even if you are a bird!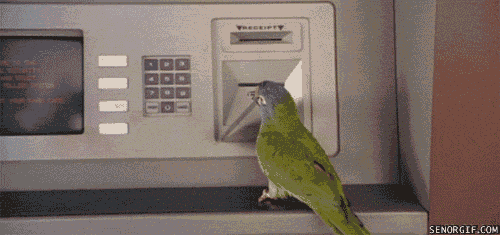 'Canuck', Vancouver's celebrity crow, will be collecting a paycheque this summer for 'working' at Vancouver's Pacific National Exhibition. The PNE is the city's annual summer fair/amusement park/agricultural exhibition. Operating since 1910 with only a break during WW2, the PNE has provided a summer job for countless teens, and now one crow.
You may have seen Canuck's mug shot:
Clever crow taken the knife to cut his band pic.twitter.com/hIOBexrQir

— RP Bansal (@bnsl1958) January 14, 2016
'Canuck' the crow, raised by humans, tagged with a leg band and then set free, is known around the Lower Mainland for stealing shiny things (like the above knife), being 'unfriendly' to mail carriers, riding public transit, and helping himself to your fries. Now the crow who regularly shadows staff at the yearly PNE will become an actual employee of the fair!
Canuck's hourly wage of $12.27 will be donated to the Night Owl Bird Hospital, where he was treated last year after being attacked by a man with a flagpole.
Despite this frightening encounter with one human, Canuck sightings continue (he's got a Facebook page) and his paid gig starts next month.
Make sure you're early on your first day, Canuck, you'll impress the boss!