Inventions!  Everyone knows they're cooked up in a lab –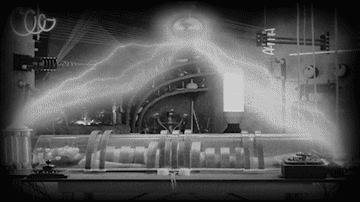 By a mad scientist –
Or a funny one! We're always looking for a better invention –
And Time Magazine has given us a list of the best ones in 2017 … on that list is Halo Ice Cream –
Find out why Halo Top ice cream is one of TIME's 25 Best Inventions of 2017 https://t.co/WoWtiqoHoI pic.twitter.com/R3Osj6etlY

— TIME (@TIME) November 16, 2017
A shoe that makes you run faster … airless tires made from recycled materials with 3D-printed treads (swap 'em for winter/summer) –
In the future, our cars will be smart, and our tires will be smarter. The Michelin Vision tire concept is featured in TIME magazine's "25 Best Inventions of 2017"https://t.co/EW8TXvrae2 pic.twitter.com/wNmuXJNmqq

— Michelin USA (@MichelinUSA) November 16, 2017
And while we don't think that Rihanna personally is really an inventor (pretty sure the chemists did the heavy lifting here) her Fenty Beauty cosmetics line is on the list for being affordable and inclusive. Props, RiRi!
.@TIME mag named @fentybeauty one of the 25 best inventions of 2017! I'm honored and I have to send love to everyone who's supported this brand in the 2months that we've been here! Glory to the Most High. https://t.co/sGxsiO6wxA pic.twitter.com/GsPG64A93P

— Rihanna (@rihanna) November 16, 2017